This federal holiday is celebrated every 11th November each year.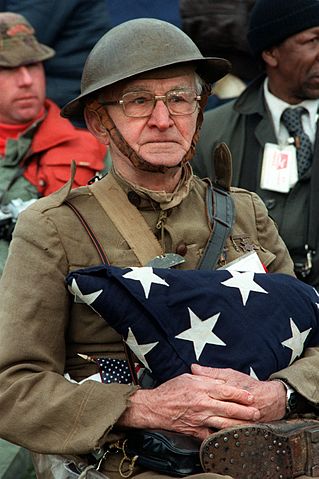 World War I veteran Joseph Ambrose, 86, at the dedication day parade for the Vietnam Veterans Memorial in 1982.
Veterans Day is a federal holiday in the United States of America and commemorates all those American military veterans who served in the United States Armed Forces since the country came into being.
November 11th of every year is designated as Veterans Day but must not be confused with Memorial Day which is the day allocated and also a federal holiday to commemorate all those US military men and women who laid down their lives in the service of their nation.
The date selected has special significance as it was at the 11th hour, of the 11th day of the 11th month of 1918 when all hostilities in World War I, ended and when the Armistice with the state of Germany went into effect.
Like most other countries that fought that war with Germany the United States of America also observed Armistice Day but in 1954 it was renamed Veterans Day.
On the first anniversary of the end of hostilities in World War I, President Woodrow Wilson issued a statement which outlined the sacrifices that the men and women of the United States Armed Forces made to get Germany to agree to an Armistice, and thereafter the United States Congress adopted a resolution on June 4th 1926 for the President of the United States of America to issue an annual proclamation calling for the observance of November 11th to honor all American veterans who had served the country.
May 13th 1938 saw another US Congress Act being passed which proclaimed that November 11th be declared a federal holiday to enable the citizens to honor those who had served in the United States Armed Forces and dedicated to world peace.
Then in 1945 an American veteran of World War II, Raymond Weeks from Birmingham, Alabama thought it fit to extend Armistice Day to extend to all United States Armed Forces veterans and not to just only those who laid down their lives in World War I.
Raymond Weeks was a very persevering personality and he led a delegation of World War II veterans and met with General Dwight Eisenhower who apparently was moved by the idea and thought it was worthwhile to have one National Veterans Day to honor all those veterans who had served in the United States Armed Forces.
Weeks led the first of such celebrations in 1947 at Alabama and annually thereafter until his passing away in 1985 and his crowning moment of glory was when President Ronald Reagan bestowed the Presidential Citizenship Medal at the White House in 1982 for being the driving force behind this very honorable national endeavor.
President Reagan who read from a speech prepared by Elizabeth Dole at the presentation ceremony declared that Raymond Weeks was the "Father of Veterans Day".
Subsequently in keeping with the Uniform Monday Holiday Act, Veterans Day was moved to the Fourth Monday of October in 1971 but after 1977 it was moved back to its original day of November 11th in 1978 and remains so till today.